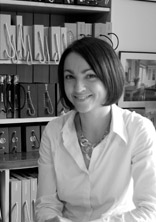 Chanelle Begnett and Katharine Rutherford are well established Interior Designers based in Warwickshire and working in the wider area of Oxfordshire, Northamptonshire, Cambridgeshire, London and they also have projects in the South West in Cornwall and Devon.
Between them, Chanelle and Katharine have over 35 years experience, largely in Residential Interior Design but more recently expanding into Commercial Design and Hotel Design.
Gramlick Designs was founded by Diane Gramlick in the 1980s and became a limited company in 2010 with Chanelle and Katharine becoming company directors and taking ownership of the business when Diane retired.
Chanelle and Katharine are both members of the BIID (British Institute of Interior Design).
Aims and Philosophy
We believe that Home is the most important place in our lives, now perhaps, more than ever before.  It is where we live, where we entertain, where we relax and for many of us, it is now also where we work.
Designed well, a home should function in a way to ease our busy lives and promote our wellbeing.  As your Interior Designers, we will ensure that everything has its place, functions as it should and (this is the really fun bit), is decorated beautifully.
Our commercial projects are likewise approached with the same personal touch to ensure the needs of your business, workplace or brand are not only met, but also enhanced through our Interior Design Process.
Our commitment to Sustainability and the Environment
We are passionate about reducing waste and continue promote Sustainable Interior Design, challenging the throwaway nature of our industry.
We nurture relationships with trusted suppliers to ensure the furnishings we supply are of a quality that promote longevity and durability.  We continue to grow our database of environmentally conscious suppliers and favour natural materials and manufacturing processes.  We aim to support local businesses and British manufacturers wherever possible, which not only supports our commitment to a high level of personal customer service, but also helps reduce the carbon footprint of the products we are supplying.
We also like to recycle and 'up-cycle' where we can.  In fact, we feel there is real joy in giving our client's existing treasured pieces of furniture and soft furnishings a new lease of life by altering, restoring and reusing them in their projects where possible.  We feel it adds a sense of personal history and layering to the project.
The Process
After a telephone call to briefly discuss your requirements, we will arrange a meeting with you at your home, or premises to discuss your brief, and how we work more fully as appropriate to your specific project.  This initial meeting is free of charge and lasts approximately one hour.
Following that meeting, we will tailor a contract and fee structure based on the scope of works and brief discussed at that meeting.  This contract will outline the fees relevant to with various stages of our design process, from concept through to project co-ordination, product procurement and installation.